SurgiPro's Top 5 Needle Holders
Posted on 24th Aug 2023
Needle holders also called needle drivers are used for suturing wound closure, ligation, reanastomosis, and other surgical procedures. A clamp mechanism normally holds the needle in place, allowing the operator to manoeuvre it through various tissues. To keep a firm grip on the needle, the jaws are often rough and short in compared to the shank.
Needle Holders
A needle holder is another instrument used in surgical procedures. Its primary function is to secure the needle used to suture the wound. The shape of the needle holder is similar to that of the forceps, but the front jaws of the two tools are different. In most cases, the needle holder is made of corrosion-resistant, high-strength, high-quality stainless steel. Surgeons use needle holders to keep surgical needles in place while sewing the patient's tissue. Because surgical needles come in a variety of shapes and sizes, doctors employ a variety of needle holders. Surgical expert will select a needle holder with a small jaw when using a small surgical needle, they will also use a needle holder with a relatively large diameter when using a thicker surgical needle.
Ryder Needle Holder with Tungsten Carbide
Ryder needle holders are used to hold little suture needles and have sensitive tips. The tips have tungsten carbide inlays and a cross-serrated pattern.
Because of the integrated pair of scissors, Olsen-Hegar needle holders are popular for all procedures. This saves time during suturing. The tungsten carbide inlays at the tip provide the instrument more strength and ensure a longer effective life. Tungsten carbide inlays are indicated by the gold handle.
Surgical Castroviejo Needle Holder
The needle holders by Castroviejo are tiny and made to be held like a pencil. They can be utilised on both sides. These are ideal for microvascular procedures. They are equipped with a spring and latch system that allows for gentle locking and unlocking.
Webster needle holders are made for small needles and fine suture material, which are frequently used in plastic surgery and subcutaneous operations. The lightweight device gives surgeons more control and reduces hand fatigue. The needle is tightly held in the serrated jaws.
Derf needle holders are used in operations in ophthalmology, dentistry, and plastic surgery. Their short jaws with fine serrations are ideal for suture sizes 5-0 and 6-0.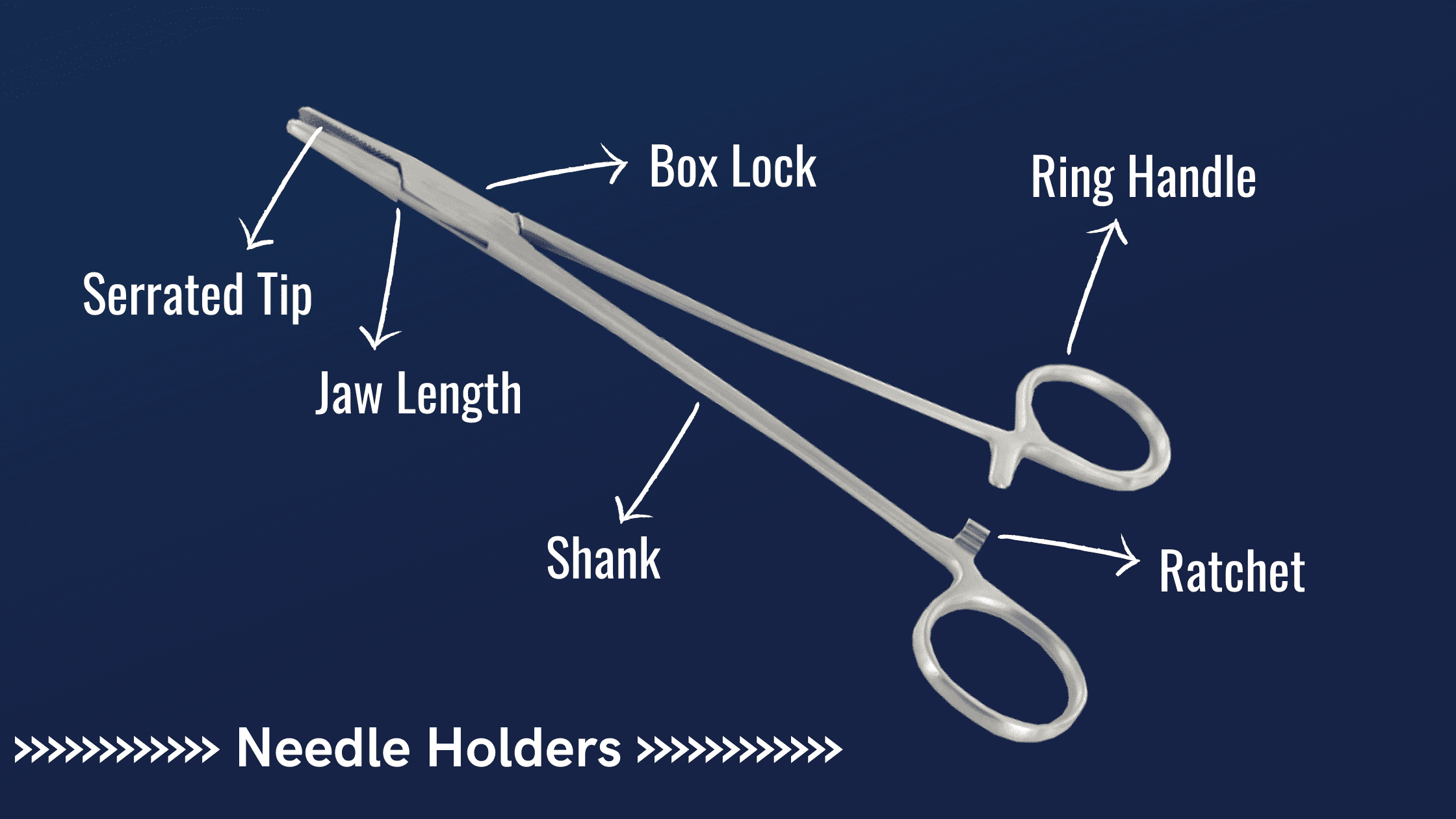 Surgipro is providing German stainless Steel Surgical Instruments and has top professionals from the surgical instruments' field who started this business over 30 years ago. We only supply the highest quality German stainless steel instruments that have been expertly crafted. This means we can stand by our word when we say our surgical tools come with a lifetime warranty and offer free shipping on purchases over $100.